Latest News:
10th Anniversary Celebrations…దశమ వార్షిక మహోత్సవాలు Postponed to a later date due to COVID-19 Pandemic……
TACA VIRTUAL DEEPAVALI CELEBRATIONS- SUNDAY, NOVEMBER 15, 2020 FROM 5.30 P.M ONWARDS…….
COVID-19 – Resources Update……
TACA AGM-2020 – Cancelled due to current COVID-19 situation……
NAMASKARAM !!! 
TACA VIRTUAL DEEPAVALI Celebrations – Sunday, November 15th from 5:30pm onwards
TACA is all set to celebrate DEEPAVALI VIRTUALLY this year!!!!
With pride we invite you all to the virtual Diwali celebration organized by TACA in association with Consulate General of India (CGI) on Nov 15th 5:30pm – 8:00 PM. Considering the current pandemic situation, to keep everyone safe but still engaged, we are planning to celebrate this Deepavali on a large scale and mark it as one of its kind in our Telugu community of Canada.   The event is free and open to all.
On line link to join the event is: https://bit.ly/TACA-LIVE
Winners from the recent Telugu Cultural competitions initiated by CGI will be announced in this event.
We will have many delegates from various reputed associations and key politicians of Indian community joining our event. Chief Guest Consulate General of India, Toronto, Ms. Apoorva Srivastava, Guest of Honour Sri Panda Prasad, Minister of Infrastructure, Alberta, and Honorable guests CIF president Sri Satish Thakkar, NAIC President Sri Azad Kaushik and EKAL President Sri Parshotam Gupta will also be attending the event.
We have several enthralling cultural programs like singing, dancing etc., that will performed LIVE during this event. Encourage the members of your family and friends to join this event and have them enjoy along with you.
Registration is optional and it is open to all Telugu people: https://forms.gle/iDr1Gw2e11iYsCiC8
Please check the flyer below for the more details.  For Sponsorship and details, contact us – info@teluguassociation.ca.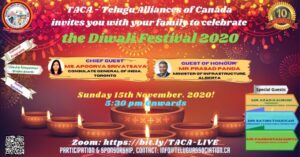 To keep the community engaged, motivated and stay strong, TACA team has been conducting a number of informational, educational, sports and entertainment activities leveraging our virtual platforms for both Adults and Kids.  Please click on the below link to know more about TACA information sessions. All the sessions & activities are FREE.  
TACA – COVID-HELP DESK
Groceries: Sreenath Kundoori : (647-204-4999); Kalpana Moturi : (647-887-4872)
General Inquiries: Nagendra Hamsala : (647-893-6244)
Donations: Suresh Kuna : (647-770-6973)
Future Events: Vani Jayanthi : (647-302-6519); Arunkumar Layam : (647-405-1818)
Visa, Travel & Consulate: Chari Samanthapudi : (519-590-1157)
Please contact info@teluguassociation.ca
If you would like to help our Telugu people in need, please donate by clicking the below TACA link.
STAY HOME – STAY SAFE