Latest News:
10th Anniversary Celebrations…దశమ వార్షిక మహోత్సవాలు Postponed to a later date due to COVID-19 Pandemic……
COVID-19 – Resources Update……
TACA AGM-2020 – Cancelled due to current COVID-19 situation……
NAMASKARAM !!! 
EVENT CANCELLED: TACA Governing Board has decided to postpone the 10th Anniversary Event from July 11th weekend to a later date keeping in view of the safety due to the ongoing COVID-19 pandemic. We apologize for any inconvenience it may have caused.
Telugu Alliances of Canada(TACA) in association with Consulate General of India(CGI),Toronto is privileged and honored to organize Telugu Cultural Competitions events virtually in Essay writing, Singing, Arts & Dance categories (solo performances) for all age groups. Please check the enclosed flyer for details.
Prize winners to be announced during the TACA Deepavali event & prizes for the winners to be distributed by Consulate General of India, Toronto.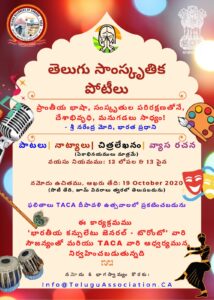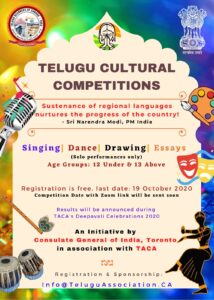 Please register using the link to fill the registration form: https://forms.gle/ansLtbq5oumbKGZEA
Please note that the last date to register is Monday, October 19th.   Request all your support & active participation to make these competitions  a grand success !
To keep the community engaged, motivated and stay strong, TACA team has been conducting a number of informational, educational, sports and entertainment activities leveraging our virtual platforms for both Adults and Kids.  Please click on the below link to know more about TACA information sessions. All the sessions & activities are FREE.  
TACA – COVID-HELP DESK
Groceries: Sreenath Kundoori : (647-204-4999); Kalpana Moturi : (647-887-4872)
General Inquiries: Nagendra Hamsala : (647-893-6244)
Donations: Suresh Kuna : (647-770-6973)
Future Events: Vani Jayanthi : (647-302-6519); Arunkumar Layam : (647-405-1818)
Visa, Travel & Consulate: Chari Samanthapudi : (519-590-1157)
Please contact info@teluguassociation.ca
If you would like to help our Telugu people in need, please donate by clicking the below TACA link.
STAY HOME – STAY SAFE