Latest News:
10th Anniversary Celebrations…దశమ వార్షిక మహోత్సవాలు Postponed to a later date due to COVID-19 Pandemic……
COVID-19 – Resources Update……
Ugadi Utsavalu April 17, 2021 from 5.00 p.m Onwards……
NAMASKARAM !!! 
TACA's "UGADI UTSAVALU"
TACA is organizing "PLAVA" nama samvathsara Ugadi Uthsavalu as a virtual event on 17th April 2021 from 5:00PM onwards. This event comprises of various cultural events, Ugadi special items like "Ugadi Puraskaralu", "Panchanga Sravanam", Special Guests, Sponsor Programs etc. Please attend with your family and friends and enjoy the evening while celebrating the Telugu New Year !!
"This is FREE Entry Event"
UGADI PURASKARAMULU:
TACA has been recognizing Telugu community people in GTA and around, who excelled in the service areas above and beyond like   Arts/ Community services/ Sports /Language and Culture etc. TACA facilitates them with "UGADI PURASKARAMULU" in this event.  TACA Governing Board has carefully reviewed Puraskaram nominations, and selected to award this year Ugadi Puraskaramulu to the following Telugu eminent personalities in Canada.  TACA Congratulates to all the recipients !
Sree Panda Prasad
Minister of infrastructure, Alberta

Sree Sreedhar Mundluru, CEO Sundineproduce, Toronto

Sree Sardar Khan, CEO
Telugu Toronto Times, Toronto
CULTURAL PROGRAMS:
Please attend Award Ceremony tomorrow during Ugadi Uthsavalu starting Saturday from 5:00 pm onwards. There will be a special Ugadi Swaralu by prominent playback singer Sree Dinaker from India live along with locally talented dozens of cultural programs. There will be a Ugadi Panchanga Sravanam by Sree Narasimha Charyulu garu.  This is FREE event and check for the below flyer for more details: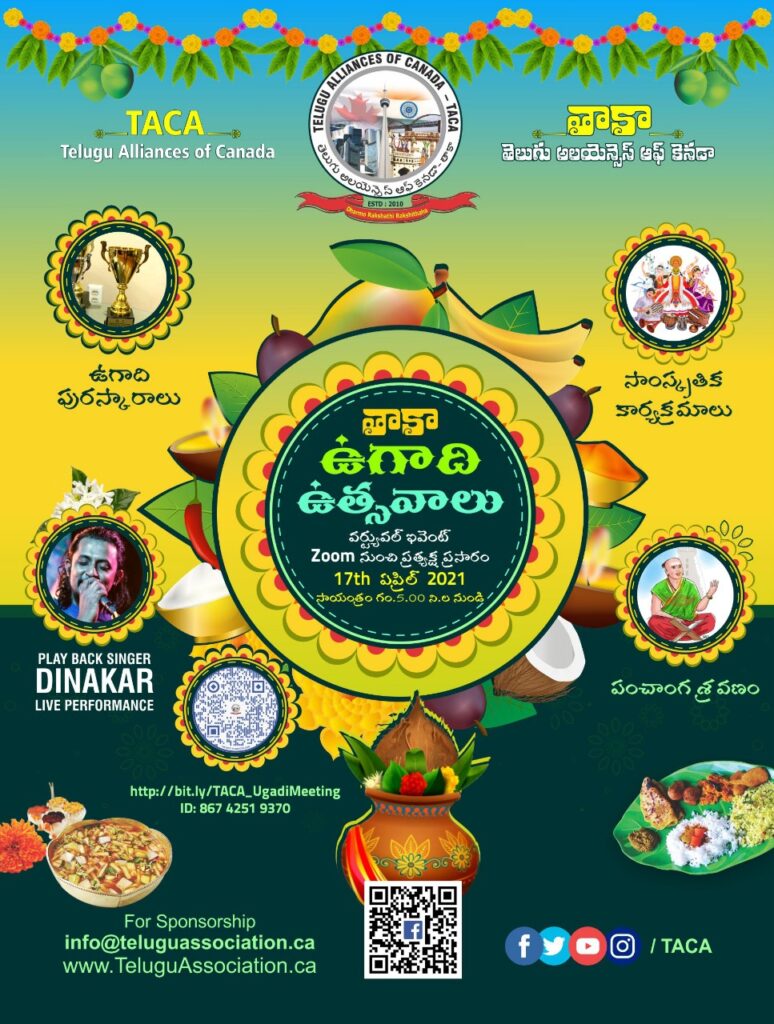 To keep the community engaged, motivated and stay strong, TACA team has been conducting a number of informational, educational, sports and entertainment activities leveraging our virtual platforms for both Adults and Kids.  Please click on the below link to know more about TACA information sessions. All the sessions & activities are FREE.  
Groceries: Sreenath Kundoori : (647-204-4999); Kalpana Moturi : (647-887-4872)
General Inquiries: Nagendra Hamsala : (647-893-6244)
Donations: Suresh Kuna : (647-770-6973)
Future Events: Vani Jayanthi : (647-302-6519); Arunkumar Layam : (647-405-1818)
Visa, Travel & Consulate: Chari Samanthapudi : (519-590-1157)
Please contact info@teluguassociation.ca
If you would like to help our Telugu people in need, please donate by clicking the below TACA link.
STAY HOME – STAY SAFE