Latest News:
10th Anniversary Celebrations…దశమ వార్షిక మహోత్సవాలు Postponed to a later date due to COVID-19 Pandemic……
COVID-19 – Resources Update……
TACA UGADHI UTSAVAALU- APR 02, 2022 4.00 PM ONWARDS……
TACA SRI SITA RAMA KALYANA MAHOTSAVAM- APR 10, 2022 9.00 AM ONWARDS……
oUTDOOR SPORTS & SUMMER PICNIC – AUG 20, 2022 10 A.M.
Address: Terry fox Track and Field stadium, 9050 Bramalea Rd, Brampton, ON L6S 6G7
CLICK HERE FOR Games Registration Link
Dear Telugu Community !!
It's summer time!! Time to get active and add some zest to our daily routine!! 
TACA is organizing one of a kind Outdoor Sports & Summer Picnic on August 20th (from 10.00 A.M onwards) in a professional stadium.
This event is open for all Telugu community in GTA. 
Multiple events across all age groups for women, men and kids including seniors – walking race are being conducted.
First, second and third place winners will be given Medals and cash prize Entry fee is $ 5 per game and $15 for multiple games. 
Kids below 10 years can participate for free (no entry fees) CLICK HERE FOR Games Registration Link
Please make the payment to [email protected]
FOOD DRIVE: Up keeping our commitment to serve the community, TACA would like to organize a food drive during this wonderful Sports and Picnic day. You are welcome to bring in some canned / packed food to donate for needy. 
INVITE FOR BUSINESS STALLS
If you are looking to put a stall at the event, please contact us at [email protected]. Small business vendors are welcome !
Please support OUR PROUD SPONSORS, click here to know more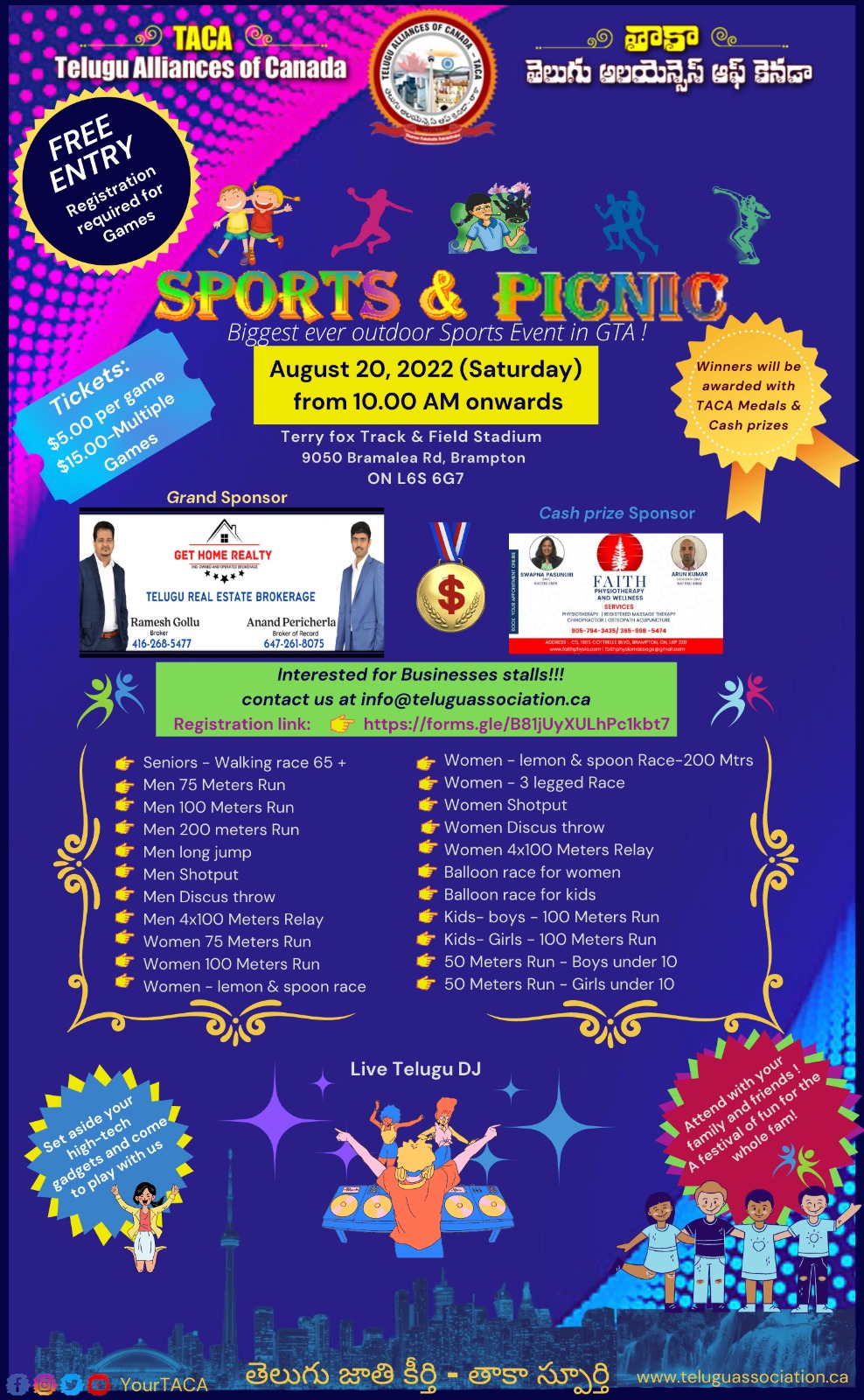 PAST EVENTS NEWS:
Thank you for all your presence & support during
ugadi & Sri Sitarama kalyanam

2022
to view phots and media for all events, please click below
To keep the community engaged, motivated and stay strong, TACA team has been conducting a number of informational, educational, sports and entertainment activities leveraging our virtual platforms for both Adults and Kids. Please click on the below link to know more about TACA information sessions. All the sessions & activities are FREE.
Groceries: Sreenath Kundoori : (647-204-4999)
General Inquiries: Prasanna Kumar T : (647-569-4999)
Donations @

[email protected]

-> Mallikarjuna Chari Padira : (226-218-2837)
Future Events: Kalpana Moturi : (647-887-4872)
Visa, Travel & Consulate: Chari Samanthapudi : (519-590-1157)
Please contact [email protected]
If you would like to help our Telugu people in need, please donate by clicking the below TACA link.
STAY HOME – STAY SAFE
TACA's
10th Anniversary Celebrations

are currently

postponed

Due to Covid Pandemic
Stay tune for more updates