Latest News:
10th Anniversary Celebrations…దశమ వార్షిక మహోత్సవాలు Postponed to a later date due to COVID-19 Pandemic……
COVID-19 – Resources Update……
TACA Sankranthi Sambaraalu- January 14, 2023 from 4.30 PM Onwards……
Thank you for attending Sankranthi Sambaralu and making the event a Grand Success !! We hope you all had a great time. To relive and cherish the moments, check it out the pics whenever you'd like.
Want to celebrate more of our festivals and "Teluguness" ?! Want to grow your small businesses ? Put up a business stall at TACA events ! Please do subscribe here at [email protected] for latest updates.
TACA is always grateful to their Sponsors for their contributions & support.
TACA believes in "oneness" & "Teluguness"
TACA
(Telugu Alliances of Canada)
Greetings !!
Its Grand Success of "CHRISTMAS CELEBRATIONS" on December 10th, 2022 at Canadian Coptic Centre, The Trinity Hall, 1245 Eglinton Avenue West, Mississauga. You can watch the pictures here, if you have any questions, please email to [email protected]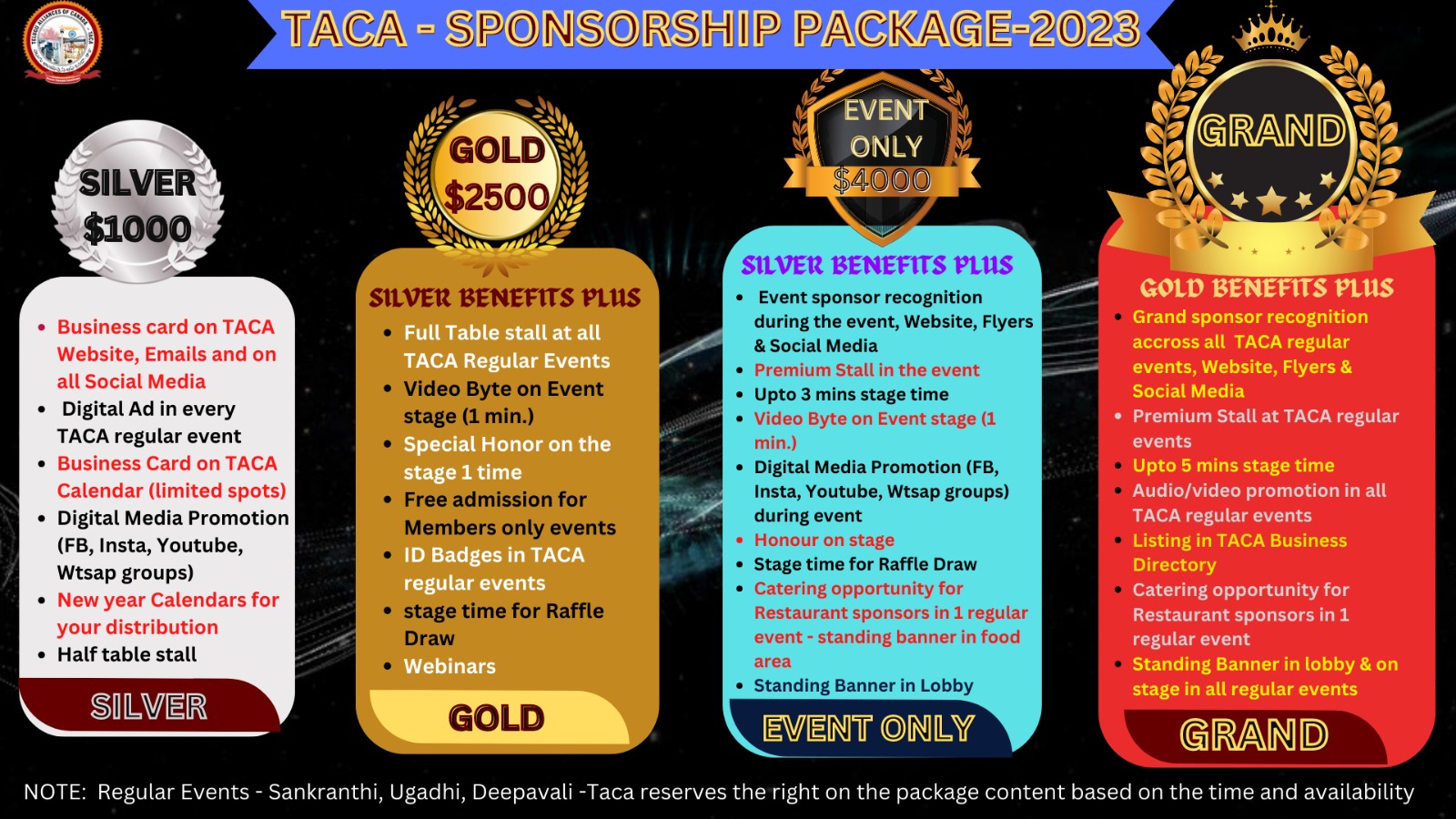 Past Events & News: 2022
Thank you for all your presence & support during Sports & Panorama India Parade events.
To view photos and media for all the recent events, please click below
Hon'ble AP Speaker Felicitation
for any enquiries, please contact us @ [email protected]
TACA's
10th Anniversary Celebrations

are currently

postponed

Due to Covid Pandemic
Stay tune for more updates