Latest News:
10th Anniversary Celebrations…దశమ వార్షిక మహోత్సవాలు Postponed to a later date due to COVID-19 Pandemic……
TACA-Indoor Sports Competition – Mar-12-2023 from 11.00 a.m onwards…….
TACA Ugaadi Utsavaalu on Mar-25- 2023 from 4.00 PM Onwards……
TACA- Sri Sitarama Kalyana Mahotsavam on Apr-01- 2023 from 9.00 AM Onwards……
UGADI UTSAVALU
Namaskaram,
TACA governing board is working hard to organize a grand event UGADI UTSAVALU to celebrate our Telegu New Year, Sree Shobhakruth (శోభకృతు) Naama Samvatsaram on 25th March 2023 at TORONTO PAVILION, Raliside road, North York. Its going to be an amazing event where we celebrate our culture, Telugu-ness and brotherhood.
TACA thanks you all for your overwhelming response to register for Cultural Programmes. We are sure its going to be a fun-filled event !!
EVENT HIGLIGHTS:
Panchanga Shravanam

Ugadi Pachadi

Amazing Cultural programmes with more than 175 participants

Delicious Telugu food

Business stalls for festive shopping

Fabulous Photo Booth
and many more surprises !!
TACA – Ugadi Utsavaalu 2023 Volunteer Registration
                                       &
SRI SITA RAMA KALYANAM on 1st April 2023
For Kalyanam Registration or Prasadam sponsor please click here
TACA
(Telugu Alliances of Canada)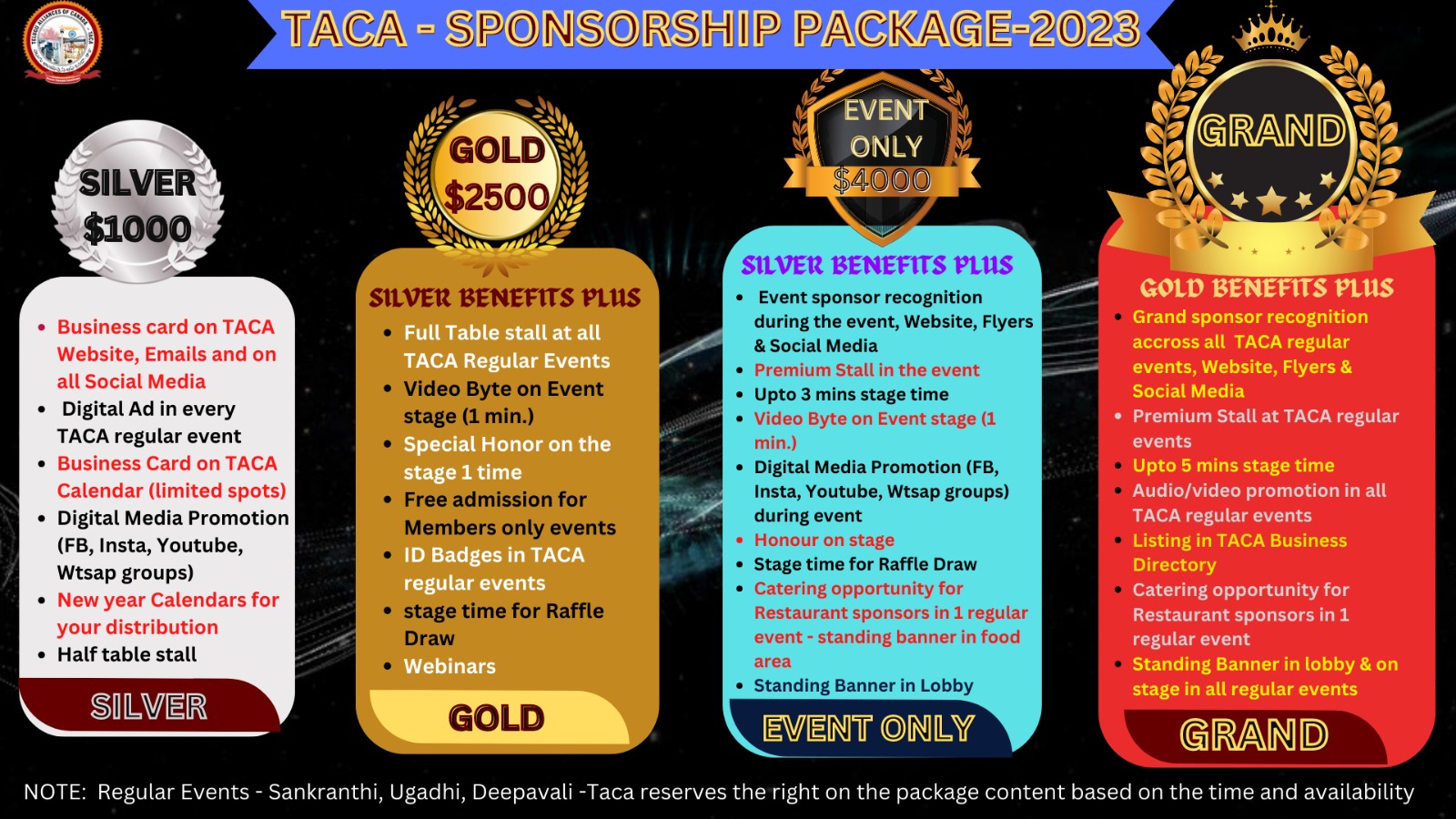 Past Events & News: 2023
Thank you for all your presence & support during Sankranthi event.
To view photos and media for all the recent events, please click below
for any enquiries, please contact us @ [email protected]
Past Events & News: 2022
Thank you for all your presence & support during Sports & Panorama India Parade events.
To view photos and media for all the recent events, please click below
Hon'ble AP Speaker Felicitation
for any enquiries, please contact us @ [email protected]
TACA's
10th Anniversary Celebrations

are currently

postponed

Due to Covid Pandemic
Stay tune for more updates