Latest News:
10th Anniversary Celebrations…దశమ వార్షిక మహోత్సవాలు Postponed to a later date due to COVID-19 Pandemic……
TTD – Sri Srinivasa Kalyana Mahotsavam on June-04- 2023 from 8.00 AM Onwards………….
SRI SRINIVASA KALYANAM on 4th June 2023
Dear Community,
We are pleased to invite you to the Sri Srinivasa Kalyana Mahotsavam, organized by TACA (Telugu Association of Canada) in coordination with APNRTS (Andhra Pradesh Non-Resident Telugu Society) on June 4th at Pearson Convention Centre, Brampton. The Kalyanam will start at 8 AM with all sevas, and we request your presence to make this event a grand success.
We are proud to announce that TTD Priests, TTD Pandits, and TTD deities are coming from Tirumala to Canada for performing the Kalyanam. This will be a rare opportunity for all of us to witness the divine union of Lord Srinivasa and Goddess Padmavathi and seek their blessings.
We would also like to inform you that devotees can register for Kalyana seva using the link https://tinyurl.com/TACATTDKALYANAM. Once we receive your interest, our team will be in touch with you for more details.
We urge you to join us on this auspicious occasion and be a part of this divine celebration. Your presence and participation will make this event a memorable one. Let us come together to seek the blessings of Lord Srinivasa and Goddess Padmavathi.
Express Interest for Kalyanam seva using the below link: https://tinyurl.com/TACATTDKALYANAM
For any questions, please contact us at [email protected]
 With Warm Regards,
TACA Governing Board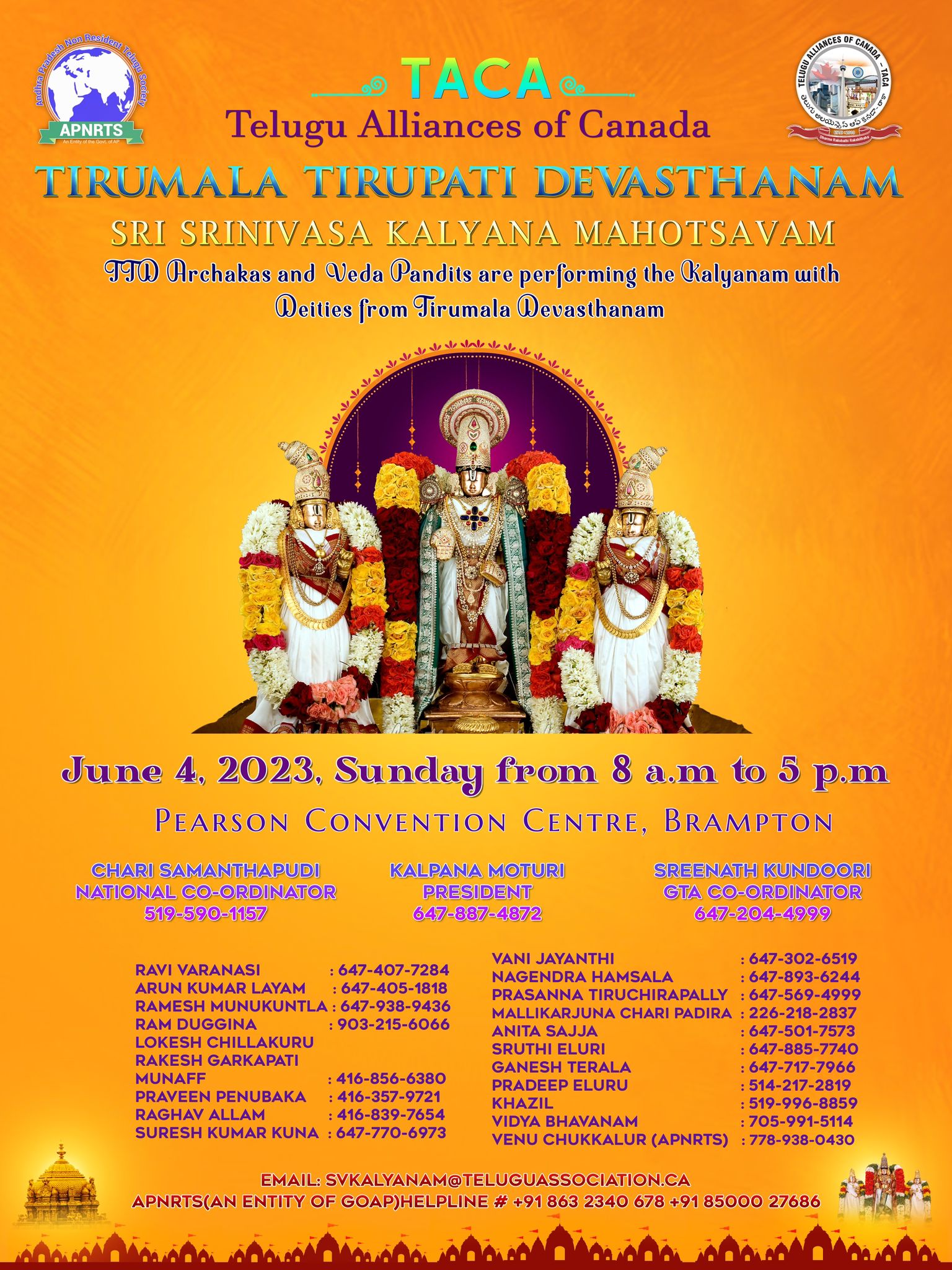 TACA's
10th Anniversary Celebrations

are currently

postponed

Due to Covid Pandemic
Stay tune for more updates